First certificate in Ornithology 2023
Are you fascinated by the beauty and diversity of birds? Do you want to learn more about the intriguing lives of these feathered creatures? If so, then the upcoming ornithology course offered by the Department of Zoology and Environment Science at the University of Colombo is perfect for you.
Starting on the 14th of May 2023, this six-session course will take you on an exciting journey into the world of birds. With a mix of classroom lectures and field sessions, you'll get to explore the fascinating lives of birds, their habitats, and their behaviors.
The inaugural session of the course will be held on the 14th of May 2023, at 9 am, at the Department of Zoology and Environment Science, University of Colombo. This first session will set the tone for the rest of the course and give you an overview of what to expect.
From there, the sessions will be held every other Saturday, starting from 27th of May 2023. These sessions will be held from 8.30 am to 12.30 pm and will cover a wide range of topics related to ornithology. You'll get to learn about the evolution of birds, their anatomy and physiology, and their breeding and migration patterns.
But that's not all. The course also includes field sessions, where you'll get to put your newly acquired knowledge to the test. You'll get to observe birds in their natural habitats, learn how to identify different species, and even participate in bird banding activities.
The course will be taught by a team of experienced instructors who are passionate about ornithology. They'll share their knowledge and expertise with you and help you develop a deeper appreciation for birds and their role in our ecosystem.
Whether you're a bird enthusiast, a nature lover, or someone who simply wants to learn more about the world around them, this course is a great opportunity to explore the fascinating world of birds. So why not sign up today and embark on a journey of discovery into the world of ornithology?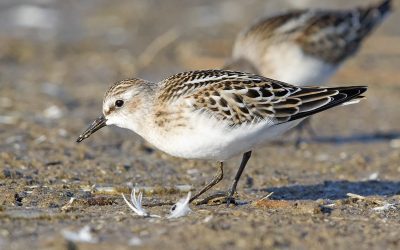 The little stint (Calidris minuta or Erolia minuta) is a diminutive wader species known for its petite size, akin to that of a sparrow. In the picturesque landscapes of Sri Lanka, it goes by the charming names of "Punchi Siliwatua" and "Punchi Hinna". These little...