The Importance of Wetlands
Tropical wetlands are among the most productive ecosystems in the world, comparable to rain forests and coral reefs. Their shallowness, high temperature, high nutrient content and profusion of light guarantee a large biomass turnover and rich and diverse plant and animal communities. They are important features in the landscape that provide numerous beneficial services for people and biodiversity. Some of these services, include protecting and improving water quality, providing a habitat for numerous species, storing floodwaters and maintaining surface water flow during dry periods. These valuable functions are the result of the unique natural characteristics of wetlands.

In the bygone days most of these wetlands were utilized for paddy farming, but most cultivation has now been abandoned because of changing hydrology including high frequency of floods as well as socio-economic factors. Today these wetlands have a typical marshland vegetation in which grasses, edges and clumps of low scrub and trees prevail. Since sediments are continuously deposited and dead organic material accumulates, the marshlands are in a successional stage between "wet" and "dry" lands. The soft soil substrate, rich in nutrients from organic matter and mixed with mineral soil, is ideal for germination of plant seeds, especially when exposed in dryer periods. Over the years, this has resulted in the development of lush vegetation cover. Biologically such marshes are rich, productive ecosystems that provide feeding, shelter and breeding sites for a wide diversity of fauna.
&nbsp
---
Present Status of Colombo Wetlands
Colombo district is endowed with a variety of wetlands that comprise of manmade lakes, canals, paddy fields, abandoned paddy lands and marshes. These wetlands provide number of important ecosystem services such as storage of rainwater , particularly during heavy monsoon seasons and thereby functioning as flood retention areas, proving opportunities for recreation, provision of food in the form of freshwater fish and other aquatic vegetation, provision of fuel wood and functioning as cattle grazing sites. Further they reduce extreme air temperatures and make the city more livable while serving as repositiories of immense biological wealth. Over 250 plant species including 9 endemics, and 280 species of fauna, including 32 endemic species are present in these urban wetlands.
Yet published information suggest that in some areas of the city the rate of loss since the 1980s has been as high as 60% Main threats include reclamation or housing development, water pollution unplanned release of sewage and solid waste, and the spread of alien invasive species. Annnona glabra(Wel atha) a rapidly spreading invasive plant species, often forming mono-specific thickets in most parts of these wetlands.
Despite progressive degradation, wetlands still cover an area of some 20km2 of the Colombo Metropolitan Region. Future survival of these shallow wetlands will not be enhance through a policy of "let nature take its course" as natural processes relating to vegetation dynamics will ultimately transfer them into dry lands, while pollution will lead to deterioration of water quality. If these wetlands are to be preserve as a storm water detention basin, as well as for biodiversity conservation and recreation purposes , adequate management interventions are required to maintain the unique properties of these wetlands. Upcoming projects such as Megalopolis project with plans to merge Colombo, Gampaha, and Kalutara districts will severely threaten the wetlands in these areas, if careful planning to protect these is not given due consideration. It is thus obvious the cooperation and collaboration of relevant line agencies are required to achieve these goals.
&nbsp
---
About the Project
FOGSL with assistance from UNDP-GEF small Grants Program is initiating this project to pilot test the conservation of urban wetlands by utilizing birds as an umbrella group and through the application of Citizen Science approach in five selected wetlands within the Colombo District. This project will be a part and parcel of the programmes planned to commemorate the 40th anniversary of the organization in 2016/2017
Objectives of the project are to
Create urban ecological awareness among citizens including school children
Initiate monitoring and data collection programmes in selected urban wetlands by employing the citizen science approach involving public volunteers and school children
Develop ecological sustainability in the selected urban wetland systems as models for conserving the biological wealth contained in these parks with the involvement of general public and concerned institutions.
&nbsp
---
How to contribute
This project is a citizen science program. Anyone from the public can contribute to this project.
If you are interested in contributing, please contact the FOGSL office and provide your details. When the project is underway we will inform on how to exactly contribute.
&nbsp
---
Birds in Wetlands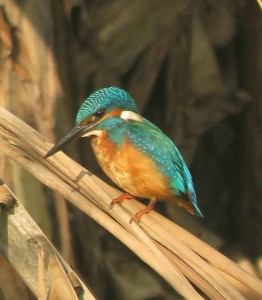 Birds are an integral part of wetlands. Wetlands hold abundant amounts of water and food which draws the attention of birds and make the wetland an important part in their life cycle. Certain birds completely base their mode of life on the existence of wetlands. Many resident and migrant bird species are attracted to wetlands and present an important argument towards wetlands conservation.
Close to 115 birds have been recorded from wetlands situated in the Colombo region. We have provided a checklist of these birds with their common name and scientific name in a separate page. Please click here to view that list
&nbsp
&nbsp
&nbsp
This Project is a partnership between